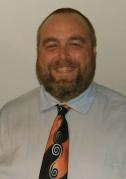 After a brief sabbatical from January to August of 2016, Acapella was thrilled to welcome Kurt back to the team. Before his sabbatical, Kurt had been with Acapella for more than 6 years.
His favorite part of working at Acapella is making people feel comfortable with their technology. Helping clients to accept that they don't need to understand their technology inside and out is something he really enjoys. The one electronic device Kurt could never live without is his desktop computer.
The fictional characters Kurt thinks he relates to best are Charlie Brown and Burgermeister Meisterburger. If he could suddenly develop any superpower of his choosing, he would love to be able to fly. Kurt's favorite pastime is singing in his barbershop quartet, and if he had to only listen to one song for the rest of his life, he would pick Beethoven's Moonlight Sonata.
Kurt has an extensive list of places he would love to travel to but would like to start with a destination here at home. Namely, Hawaii. As a child, Kurt first wanted to be a magician, and then as a teenager, a music teacher. His favorite food is his wife's Sheppard's Pie.
Please join Acapella in welcoming Kurt back to the team! We're beyond thrilled that he's once again working alongside us.