There has been much talk in the past of the ability for standing desks to help employees reduce neck and back pain caused by sitting for extended periods of time and burn more calories throughout the workday.
There are plenty of studies extolling the health benefits and productivity improvements, like this one and this one. I've personally had a standing desk for many years, and an of couple years ago I got one for a skeptical employee. "Once you have one, you'll never go back," was his opinion. We quickly replaced all the rest of the desks in our office with motorized height adjustable desks.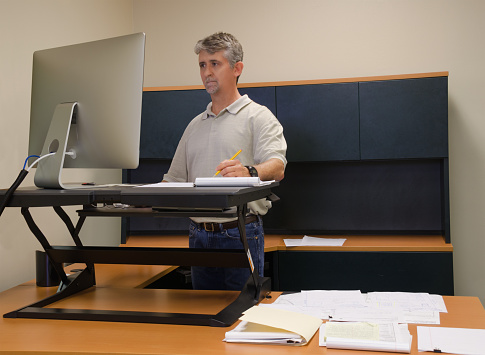 When I purchased my standing desk years ago, they were an expensive rarity I had to import. Now they're easy to get locally for not much more than a traditional office desk. We get all of ours from Source Office Furnishings in Abbotsford. They also have stores across the lower mainland and have very reasonable shipping and setup rates. This year's new models are also very easy to build. If you're looking at them for your office, you can buy the same electric height adjustable ones we use right here.
While everyone constantly adjusts their desks throughout the day, they almost all go up after lunch to give a nice energy boost when you usually feel like a nap.
Feel free to call us and ask anyone answering the phone for their experience with a standing desk. You'll hear nothing but good things from my entire team.
Want to learn more about how you can use technology to increase productivity? Contact us at sales@netonetech.com or (561) 432-7823. We're the IT professionals businesses in South Florida trust.