A few simple ways to back up your information.
Losing information can be disastrous for many small businesses, but there are plenty of ways to avoid such problems. Since many people rely on their technology for daily tasks, it's necessary to have a backup plan in the event of a natural disaster or a minor computer error.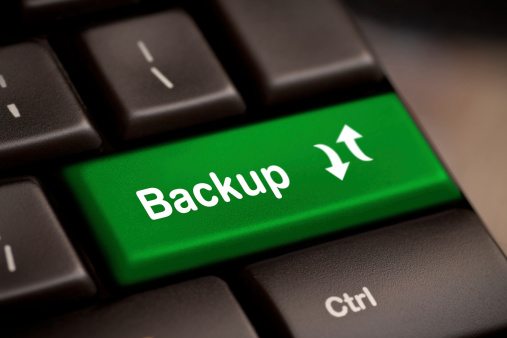 Luckily, backing up your data creates a safety net, so that if one resource shuts down, there are programs (or systems) in place to make the save. Here's a look at a few simple ways to back up your information and the security associated with them.
An External Hard Drive
An external hard drive is an excellent choice when it comes to backing up your information. Many are only the size of a small milk carton (and capable of storing insane amounts of information), so it's likely that you'll find an appropriate hard drive to store your precious information.
Since almost all drives on the market are universally compatible, they'll have no problem working with your computer setup with no difficulty. Many utilize a single USB cord, which keeps your backed up information at a safe distance if something happens to your main computer (and lets you move the external drive easily if you plan on using the same information on a different computer).
External Hard Drive Security: Many external hard drives have different security measures, but the information inside cannot be accessed without the hard drive present unless the information has been uploaded to another source.
Tablet/iPad
What makes these devices great is that many of them can sync with your desktop or laptop setup. Some even go as far as syncing with programs you utilize the most so that if one goes down, your backup is still ready for business. In addition, these devices make life easier whenever working away from your main computer and operating with a mobile device.
Tablet/iPad Security: Many tablets have various amounts of lock functions. Many also have programs in which the tablet/iPad can be located if it turns up missing.
USB Sticks
Being remarkably portable and lightweight, USB sticks are the way to go if one plans on saving only a few gigabytes of information. Since they've been around for quite a few years, many USB sticks are on the market that can carry a vast amount of information. They often include an extra bell or whistle for good measure. So whether you'd like one waterproofed or placed on your keyring, a USB stick is an excellent option for traveling light while keeping information handy.
USB Stick Security: USB sticks are much like external hard drives in that the information cannot be accessed unless the device is present (or if the information has been uploaded to another source).
The Cloud
The cloud may sound like a mystical force that's normally reserved for science fiction writers, but (in reality) it's actually very practical and commonly used for backing up data. Cloud computing has come a long way in terms of storing data, since it's basically an online storage unit.
If it can be uploaded to the internet, chances are you can put it in a cloud. Music, photos, documents, you name it — all you have to do is upload it to your account on the cloud and it will be saved in your online storage forever, regardless of what happens to any of your devices.
Cloud Security: Security measures have been adapted to prevent hackers from stealing cloud information. Given that the information is stored online, you only need internet access on your computer, tablet or even smartphone to access the information in the cloud.
There are plenty of different methods for backing up your information. Whether you choose to utilize one, two, or three of the methods listed, the reality of losing data won't become a major hindrance to your lifestyle or information. A little preparation can go a long way when backing up your data, so it's better to be safe than sorry when working with fragile computer equipment.