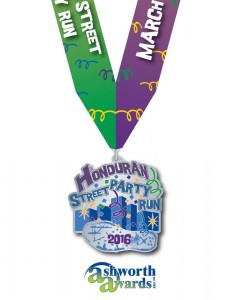 SSE Network Services is excited to be a sponsor for the new finisher's medal this year for the annual Honduran Street Party Fun Run, an event that benefits the Just Because We Care organization. Just Because We Care is a St. Charles-based organization that provides the following to school children in a small mountain village near Guyamitas in Northern Honduras:
Food
Education
Clothing
Shelter
Basic medical care
The event takes place on March 26th, 2016 at 8:30 CDT in Saint Charles, MO. We look forward to taking part in the event. Our team takes part in the event every year to help raise awareness and money for this wonderful cause. We know the importance of helping those in need – and we strive to do whatever we can.
Just Because We Care is a phenomenal organization that cares for 152 children in the elementary school run by the charity. They're sending 8 students to college in an effort to break the cycle of poverty. For more information about the run or to get registered, click here.
Contact NetOne Technologies at (561) 432-7823 or email us at sales@netonetech.com to learn how you can make a difference in the lives of those in need. We are the trusted choice when it comes to finding an IT company in South Florida.